Posts for tag: nutrition
By The James Gang Dental Group
April 22, 2018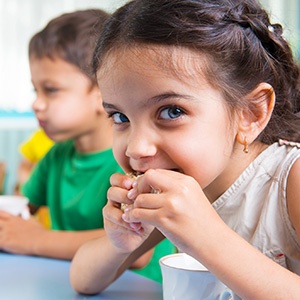 If you're committed to providing your family nutritional, low-sugar snacks, you're not only helping their physical well-being but their dental health too. If you have school-age children, though, you might be concerned about other snacks available to them while away from home.
To begin with, any potential problems at school with available snack items might not be as bad as you think. A few years ago the U.S. Department of Agriculture (USDA) established new snacking guidelines for public schools. Known as the Smart Snacks in Schools initiative, the new guidelines require schools to only allow snacks sold on school grounds that meet minimum nutritional standards. In addition, these guidelines promote whole grains, fruits, vegetables and low-fat dairy products.
Still, the guideline standards are only a minimum, which could leave plenty of room for snacks that don't meet your nutritional expectations. And school-offered snacks aren't the only ones available on campus: there are also those brought by other students, which often get swapped around. The latter represent tempting opportunities for your child to consume snacks that aren't the best for dental health.
But there are things you can do to minimize the lure of these poor snacking opportunities at school. First and foremost is to educate your child on why some snacks are better for them than others. In other words, make nutrition an instilled family value—and, of course, practice what you preach.
You can also send them with snacks you deem better for them than what's available at school. Of course, you'll be competing with a lot of exciting and enticing snacks, so try to inject a little "pizzazz" into yours like a dusting of cinnamon or a little parmesan cheese on popcorn. And use a little creativity (even getting your kids involved) to make snack choices fun, like using cookie-cutters to shape whole-grain bread and cheese into shapes.
And consider getting involved with other parents to encourage school administrators to adopt stricter snack standards over and above the Smart Snacks in Schools initiative. This not only may improve the nutritional content of available snacks, but also transform a "family value" into a community-wide appreciation for snacks that promote healthy teeth and gums.
If you would like more information on dental-friendly snacking, please contact us or schedule an appointment for a consultation. You can also learn more about this topic by reading the Dear Doctor magazine article "Snacking at School."
By The James Gang Dental Group
March 28, 2018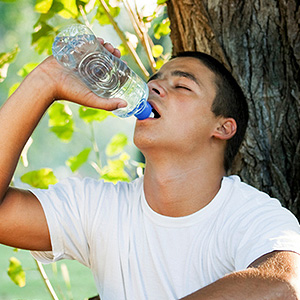 In recent decades civilization's millennia-long search for clean, safe drinking water has become much easier with modern purification methods. Today, there are few places in the United States without adequate access to potable water. And about three-fourths of the nation's tap water systems add fluoride, credited with helping to reduce tooth decay over the past half century.
But in recent years some have voiced concerns about the safety of tap water and popularizing an alternative: bottled water. Manufacturers of bottled water routinely market their products as safer and healthier than what comes out of your faucet.
But is that true? A few years ago a non-profit consumer organization called the Environmental Working Group (EWG) performed a detailed, comprehensive study of bottled water. Here's some of what they found.
Lack of transparency. It's not always easy to uncover bottled water sources (in some cases, it might actually begin as tap water), how it's processed, or what's in it. That's because unlike water utilities, which are rigorously monitored by the Environmental Protection Agency (EPA), the Food and Drug Administration (FDA) oversees bottled water production with less strenuous guidelines on labeling. Eight out of the top 10 selling brands were less than forthcoming about their water's contents in EWG's investigation.
Higher cost. According to the EPA, the average consumer cost in the last decade for tap water was $2.00 per 1,000 gallons (0.2 cents per gallon). The retail cost for even bulk bottled water is exponentially higher. It can be a costly expenditure for a family to obtain most of their potable water by way of bottled—while still paying for tap water for bathing and other necessities.
Environmental impact. Bottled water is often marketed as the better environmental choice. But bottled water production, packaging and distribution can pose a significant environmental impact. EWG estimated the total production and distribution of bottled water consumes more than 30 million barrels of oil each year. And disposable plastic water bottles have become one of the fastest growing solid waste items at about 4 billion pounds annually.
While there are credible concerns about tap water contaminants, consumers can usually take matters into their own hands with an affordable and effective household filtering system.  EWG therefore recommends filtered tap water instead of bottled water for household use.
If you would like more information on drinking water options, please contact us or schedule an appointment for a consultation. You can also learn more about this topic by reading the Dear Doctor magazine article "Bottled Water: Health or Hype?"
By The James Gang Dental Group
April 09, 2015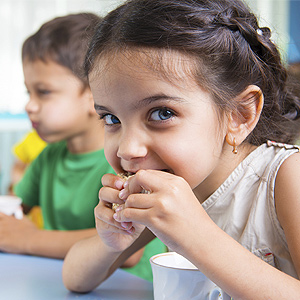 Eaten in a fast food restaurant lately? If so, maybe you've noticed some changes in the big, colorful signs behind the counters. Many have begun promoting a few "healthier" selections (like salads and grilled items) and giving a more extensive listing of nutritional information. But there's one thing you might not have noticed on those displays: a listing for soda among the beverage choices in the kiddie meal packages. That's because they are no longer there.
Recently, Burger King quietly removed sugary fountain drinks from the in-store and online menu boards that show what you get with kids' meals. They were following the lead of McDonalds and Wendy's, both of which made similar moves in prior months. You can still get a soda with your kiddie burger if you specifically ask for one, but we're hoping you won't; here's why.
For one thing, youth obesity has nearly tripled in the past three decades. As the U.S. Centers for Disease Control and Prevention (CDC) has noted, it's now an epidemic affecting more than one in six children and adolescents. Many of the extra calories kids get are blamed on sugary drinks: According to a study by the Harvard School of Public Health, children's daily calorie intake from these beverages rose by 60 percent in recent years. Obesity makes kids more likely to get many diseases, and can lead to problems in psychological and social adjustment.
But that's not all. As dentists, we're concerned about the potential for soda to cause tooth decay, which is still the number one chronic disease in children around the world. The association between sugary drinks and cavities is clear. So is the fact that tooth decay causes pain, countless hours of missed school and work, and expense that's largely unnecessary, because it's a disease that is almost 100 percent preventable.
While the new signage at fast food restaurants won't make soda disappear, it does tend to make it less of an automatic choice. Anything that discourages children from routinely consuming soda is bound to help — and let's point out that the same thing goes for other sweet and acidic beverages including so-called "sports" and "energy" drinks. It's best to try and eliminate these from your child's diet; but if you do allow them, at least limit them to mealtimes, and give your mouth a break from sweets between meals. That gives the saliva enough time to do its work as a natural buffer and acid-neutralizer.
What else can you do to help keep your child's oral hygiene in tip-top shape? Be sure they brush their teeth twice and floss once every day, and bring them in for regular checkups and cleanings. But if you do suspect tooth decay, don't delay treatment: Left alone, decay bacteria can infect the inner pulp of the tooth, resulting in severe pain, inflammation, and possibly the need for root canal treatment.
If you would like more information about children's oral health, please contact us or schedule an appointment. You can learn more by reading the Dear Doctor magazine articles "How to Help Your Child Develop the Best Habits for Oral Health" and "Top 10 Oral Health Tips For Children."